5 interior design trends in 2023
Address : 3940 rue de Mentana, Le Plateau-Mont-Royal
Maximalist style is back and encourages boldness and exuberance. The walls can be decorated with extravagant patterned wallpapers, rich and vibrant colors, and layered carpets to create an opulent look. The accessories can be used without restraint to bring a finishing touch to the decoration.
Address : 4069 avenue des Érables, Le Pateau-Mont-Royal
In recent years, the trend of natural materials has been asserting itself in interior decoration and 2023 is no exception. People want to create a warm and welcoming atmosphere at home using elements such as wood, stone and natural fibers like rattan. Neutral colors and organic textures are also very popular to achieve this effect.
Address : 1487-1489 rue Marie-Anne, Le Pateau-Mont-Royal
If you are not a fan of extravagant and colorful decors, another trend in vogue is the Japandi style, a fusion between the Scandinavian and Japanese style. This sleek and elegant style also favours the use of natural materials, but goes further by incorporating clean lines and minimalist design. It highlights the harmonious combination of natural materials, neutral colours and clean shapes, creating a cozy, bright and sophisticated atmosphere.
Address : 5247 avenue Belmore, Notre-Dame-de-Grâce
Dynamic decors encourage creativity with geometric shapes, vibrant colours and varied textures. Bold designs and overlays are welcome, and imperfection is even celebrated. So don't be afraid to think outside the box!
COLORFUL LIGHTING FIXTURES
Colourful lights are a joyful reminder of the past that finds its place in modern interiors. With their retro touch, these lights are a real asset that add a touch of fantasy to any decor. They are perfect to highlight a monochrome piece, or to enhance a soft decor with a touch of color. So, if you want to bring color and personality to your home, don't be afraid to dare with colorful lights!
To conclude, the decorating trends of the current year offer a unique opportunity to express your creativity and personality within your living space. Whether you are a fan of bold and dynamic styles or prefer a minimalist approach, there are options for everyone. And you, what trend do you intend to adopt to give life to your interior?
Contact one of our real estate brokers to assist you in the purchase or sale of your property
Consultez des articles similaires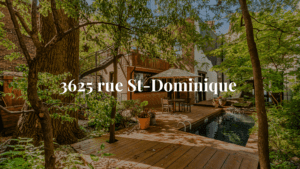 Interior Design
3625 rue St-Dominique – important points A unique story Built at the turn of the 1850s and restored in the course of the 20th century,
Lire la suite »
Interior Design
4444 rue Rivard – important points A coveted sector Right in the heart of the Plateau Mont-Royal, on charming Rivard Street, lies this spacious single-family
Lire la suite »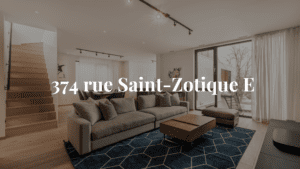 Interior Design
374 rue Saint-Zotique E. – specifications Radiant brightness Looking for a home that reflects the great outdoors, in the heart of Little Italy? Discover this
Lire la suite »
Quelques propriétés à vendre sur Le Plateau-Mont-Royal