5 façons de célébrer l'été à Montréal
Summer in Montreal is a season where the city overflows with outdoor activities, delicious flavors, and picturesque places to discover. With its lush parks, extensive bike paths, and thriving culinary scene, Montreal offers a range of options to fully enjoy the summer months. Our real estate brokers, experts of the metropolis, therefore present you with five ways to celebrate summer in Montreal.
Organize an Enchanting Picnic at Jarry Park - Villeray
With its vast expanses of lush green grass, majestic trees, and recreational facilities, Jarry Park provides an idyllic setting to relax, have a picnic, and enjoy the company of loved ones. Offering a peaceful escape in the heart of the city, Jarry Park invites you to fully savor summer in Montreal. And if you prefer not to worry about preparing a meal, you can rely on Dépanneur le Pick-Up and Rose Café, two enticing options located near the park.
Check out the article from Journal Métro about Montreal parks!
Explore the Culinary Treasures of Jean-Talon Market - Rosemont—La Petite-Patrie
Located in the heart of Little Italy, in the vibrant neighborhood of Rosemont—La Petite-Patrie, Jean-Talon Market is a true haven for food lovers. Renowned for its lively atmosphere and variety of fresh produce, this place encompasses all the attributes of an urban market. As you stroll through its bustling aisles, you'll be delighted by the vibrant colors of fruits, vegetables, and flowers that add a touch of liveliness to the surroundings. So, if you're planning a picnic at Jarry Park, look no further!
Indulge in Delicious Ice Cream at Swirl - Le Plateau-Mont-Royal
Located at the intersection of Rue Rachel Est and Avenue Laval, SWIRL is a popular destination to cool off and indulge in frozen delights when temperatures rise in Montreal. Whether you're strolling through the Plateau-Mont-Royal neighborhood, exploring the nearby parks, or simply enjoying the beautiful weather, you can stop by this takeout window for a delicious and refreshing break.
Savor a Gourmet Brunch at Bistro Le Passé Composé - Ville-Marie
What better way to celebrate the arrival of summer than with a decadent brunch? That's why our real estate brokers recommend Le Passé Composé, a French-inspired bistro located in the heart of the Village, in the Ville-Marie neighborhood. The concept of this establishment is to reinvent the must-have brunch classics with a contemporary twist, while showcasing local producers. With its generously portioned and delightfully indulgent plates, Le Passé Composé is sure to satisfy your taste buds.
Go for a Bike Ride Along the Lachine Canal - The Southwest
For many Montrealers, the Lachine Canal circuit is undoubtedly one of the most beautiful routes the city has to offer. Its path winds through several trendy neighborhoods of the Southwest such as Saint-Henri, Griffintown, and Little Burgundy, making this cycling trail a must-do during the summer season!
In conclusion, summer in Montreal is a magical season where you'll find a multitude of outdoor activities, culinary delights, and unique discoveries. Let yourself be captivated by the beauty, culture, and delights that the city has to offer during this summer season.
Consult one of our real estate brokers to accompany you in your neighborhood discovery.
Discover more neighborhood gems in Montreal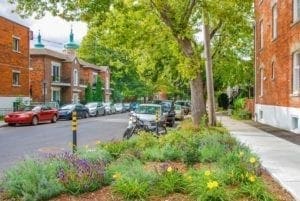 Neighborhood Discovery
Buying a property is an exciting moment in a lifetime that comes with a lot of stress. There are several important things to consider before
Lire la suite »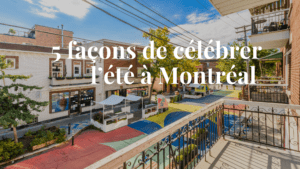 Buyer Information
5 façons de célébrer l'été à Montréal Summer in Montreal is a season where the city overflows with outdoor activities, delicious flavors, and picturesque places
Lire la suite »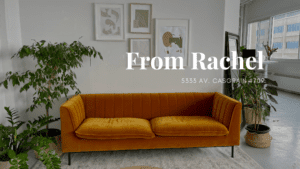 Montreal
From Rachel – Key Information From Rachel If you live in Montreal, chances are you've already heard of From Rachel, a local company that offers
Lire la suite »
A few properties for sale in Montreal