5 Halloween Festivities to try in Montreal
As Halloween draws near, Montreal takes on a mysterious and bewitching veil, revealing unique and captivating experiences in every corner of the city. Join us as we delve into the diverse festivities that are unfolding in the metropolis in 2023.
SPASM Festival - Rosemont—La Petite-Patrie
The Rosemont district comes alive from Wednesday, October 18, to Tuesday, October 31, hosting the 22nd edition of the SPASM Festival. Initiated by the desire to promote cinematic diversity in Quebec, this event is dedicated to the genres of horror, science fiction, and fantasy. Movie enthusiasts will have the opportunity to explore a variety of independent works at the grand Plaza Theater, situated at 6505 St-Hubert Street, at the corner of Beaubien.
For further details, click here.
Haunted Montreal - The Plateau-Mont-Royal
The Plateau-Mont-Royal awakens with chilling tales on the Mont-Royal tour presented by Haunted Montreal. Starting Saturday, October 7 and running through Tuesday, October 31, this unique experience invites you on a lantern-lit journey through the neighborhood's streets, unveiling haunted sites and enigmatic legends linked to the mountain. A seasoned storyteller leads participants through riveting narratives of ghosts, mysteries, and paranormal stories.
For further details, click here.
Candlelight Concert - Verdun
The Rialto Theater in Verdun undergoes a magical metamorphosis into a bewitched musical sanctuary for the Haunted Candlelight Halloween Concert. Immerse yourself in a mysterious atmosphere where the enchanted compositions of Danny Elfman, featuring the medley from "The Nightmare Before Christmas," and chilling classics like Michael Jackson's "Thriller," echo through the history-laden walls of the theater. This unique musical experience promises a spellbinding evening, blending captivating melodies with the essence of Halloween in the eerie darkness of the Rialto Theater.
For further details, click here.
Immerse yourself in a magical adventure at the Botanical Gardens with the Halloween Shivers event—a captivating celebration that will delight children and entertain adults alike. Running from September 29, 2023, until October 31, the Great Greenhouse of the Botanical Garden is transformed into a whimsical realm, where visitors can encounter Kalbacius the sorcerer and his apprentice, Petiole. A walk through an unusual vegetable garden, an intriguing passage through a dark tunnel, and a multitude of fun workshops awaiting participants.
For further details, click here.
Pumpkin Festival - Ville-Marie
From October 7 to 29, La Ronde blossoms into a enchanting realm with its Pumpkin Festival. Get into the Halloween spirit through games, mazes, and activities designed to captivate the whole family. This lively celebration infuses every corner of the park with the enchantment of pumpkins and the festive spirit of Halloween. For those seeking an additional thrill, the Fright Festival promises an even more intense experience.
For further details, click here.
During this captivating season, Montreal unfolds a tapestry of experiences for Halloween enthusiasts. Whether your passion lies in cinema, chilling narratives, haunting melodies, or enchanting adventures, the city beckons you to delve into a realm where every corner reveals wonders.
Contact one of our real estate brokers to guide you in your neighborhood exploration
Explore other neighborhood discoveries in Montreal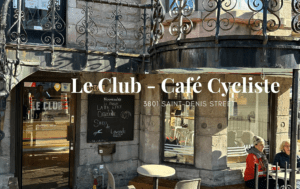 Neighborhood Discovery
Le Club – Café Cycliste – Key Information An essential stop in the Plateau Le Club – Café cycliste is a unique place that brings
Lire la suite »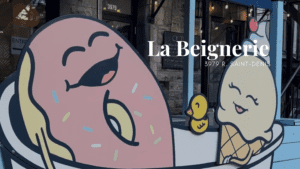 Neighborhood Discovery
La beignerie – Key Information A favorite in the Plateau Do you have a craving for sweets in a gourmet corner of Plateau-Mont-Royal? Look no
Lire la suite »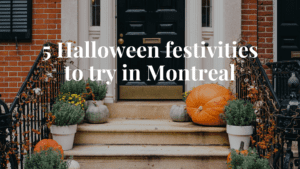 Montreal
5 Halloween Festivities to try in Montreal As Halloween draws near, Montreal takes on a mysterious and bewitching veil, revealing unique and captivating experiences in
Lire la suite »
A few properties for sale in Montreal