1487-1489 rue Marie-Anne E. - specifications
An exceptional architect-designed home
Do you dream of living in the heart of Montreal, in a cocoon that stands out for its charm and uniqueness?
Open the door to 1487-1489 rue Marie-Anne Est, an architect-designed home by Alexandre Bernier.
Let yourself be conquered by its clean lines, illuminated by skylights and contemporary wall-windows that bathe the living areas in incredible luminosity.
Contemplate its structure, which harmoniously elongates the rooms, allowing you to stroll through each space with a feeling of lightness reminiscent of the softness of its uncluttered tones.
Gastronomic cuisine to dream about
This divine home features a gourmet kitchen with a minimalist, uncluttered look. You'll notice the absence of overhead cabinetry, highlighting a white-painted brick wall that adds cachet to the contemporary ambience. To keep the space uncluttered, a "butler's pantry" is available to display appliances, crockery and other culinary tools. In this way, the large island remains an ideal place to welcome your guests for aperitifs. This kitchen is a culinary gem that will make you forget the hours spent behind the stove.
A living room that inspires relaxation
At the heart of the main living space is a cozy lounge with relaxing tones. With its attractive furnishings, you'll want to doze off in its elegant armchairs to end the evening in style after an aperitif. Its wooden console echoes the wood of the kitchen, adding a warm tone to the whole living space. All this is complemented by an elegant fireplace that will remind you of the winter breeze outside. You're sure to fall in love with this peaceful corner, perfectly appointed for all your seasonal moods.
A haven of serenity on the top floor
Discover its majestic staircase with white banisters and skylight, leading to the upper floor for even more charm to discover.
Enjoy 4 bedrooms, including a master suite with access to a private balcony to enjoy the breezes at any time of day. Its sumptuous bedrooms will have you coveting nocturnal moments, as they are the perfect representation of a cozy nest that's impossible to get enough of.
Refined bathrooms with slatted walls, freestanding bathtub and teak cabinetry will enhance your moments of peace, comfort and serenity.
Take advantage of an intimate terrace to enjoy the gentle rays of sunshine while sipping a fruity drink during the summer season.
As well as seducing you with its undeniable charm, this house has many other qualities that will not leave you indifferent. In particular, its second building can house a vehicle, be converted into a workshop or office space, or be removed to enlarge the backyard.
Don't miss this exceptional property in the heart of the Plateau-Mont-Royal. A jewel with a facade of beauty and originality rarely seen in the neighborhood.
Discover this property on our Instagram
Looking for a property in Montreal? Contact one of our real estate brokers.
View other exceptional properties in Montreal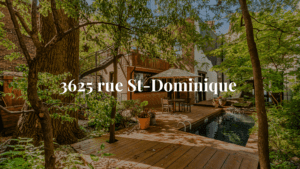 Interior Design
3625 rue St-Dominique – important points A unique story Built at the turn of the 1850s and restored in the course of the 20th century,
Lire la suite »
Interior Design
4444 rue Rivard – important points A coveted sector Right in the heart of the Plateau Mont-Royal, on charming Rivard Street, lies this spacious single-family
Lire la suite »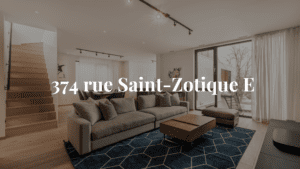 Interior Design
374 rue Saint-Zotique E. – specifications Radiant brightness Looking for a home that reflects the great outdoors, in the heart of Little Italy? Discover this
Lire la suite »
Some properties for sale in Montreal