6545 rue De Saint-Vallier - Détails sur la propriété
La Petite-Patrie, a vibrant neighborhood with undeniable charm, invites you to discover a magnificent property that is sure to captivate you. Nestled in the heart of this coveted urban enclave, this house exudes elegance and boasts details that will truly enchant you.
Warm stays evoke a nostalgic era, with their distinguished architectural ornaments such as mouldings, woodwork, stained glass windows, rosettes, and chandeliers. The high ceilings add a touch of grandeur to each room, creating a majestic and welcoming atmosphere.
Delve further and uncover a remarkably spacious and functional kitchen, adorned with cleverly designed storage options. This generous space will enable you to prepare memorable feasts alongside your loved ones, while savoring moments of warmth and camaraderie. Moreover, a charming and intimate terrace awaits you to indulge in the gentle summer evenings. This private outdoor space provides the perfect opportunity to relax, soak up the sun, and fully enjoy life in the heart of the city.
Furthermore, a delightful and intimate terrace awaits you to relish in the gentle summer evenings. This private outdoor space presents the ideal opportunity to unwind, soak up the sun, and fully embrace the vibrant city life.
Upstairs, be mesmerized by the five generously sized bedrooms that provide both privacy and absolute comfort.
But that's not all! This property also features a detached double garage, offering ample space to shelter your vehicles and securely store your belongings.
6545 Saint-Vallier Street:
A truly exceptional property in the heart of Rosemont—La Petite-Patrie awaits your discovery today!
Asking price : 1 195 000 $ 
Year of construction : 1900
Description : STUNNING PROPERTY IN THE HEART OF PETITE-PATRIE. Abundant windows. Spacious and elegant living spaces. 5 generously sized bedrooms. Cozy living rooms. Large kitchen with ample storage. Laundry room. Distinguished architectural ornaments: moldings, woodwork, stained glass, rosettes, and chandeliers. High ceilings. Ideal room division. Charming and intimate terrace. Detached double garage. Just steps away from Beaubien metro station and close to shops, gourmet grocery stores, and other urban delights of La Petite-Patrie. The charming Saint-Vallier street welcomes you!
Square footage : 2 500 pi²
Looking for a property in Montreal? Contact one of our real estate brokers.
Browse other exceptional properties in Montreal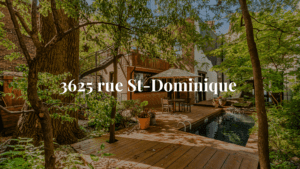 Montreal Real Estate Broker
3625 St-Dominique Street – Key Information A unique story Built at the turn of the 1850s and restored in the course of the 20th century,
Lire la suite »
Montreal Real Estate Broker
4444 rue Rivard – Key Information A coveted sector Right in the heart of the Plateau Mont-Royal, on charming Rivard Street, lies this spacious single-family
Lire la suite »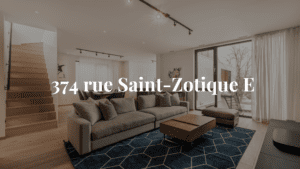 Interior Design
374 rue Saint-Zotique E. – specifications Radiant brightness Looking for a home that reflects the great outdoors, in the heart of Little Italy? Discover this
Lire la suite »
A few properties for sale in La Petite-Patrie