La beignerie - Key Information
A favorite in the Plateau
Do you have a craving for sweets in a gourmet corner of Plateau-Mont-Royal? Look no further than La Beignerie, the sweet gem designed by the talented Catherine Boucher.
Opened in 2020 during the pandemic, this charming little shop nestled just a stone's throw from our offices quickly captured the hearts of our real estate brokers. Despite the challenges of the time, this street-side gem managed to create a welcoming atmosphere, becoming the undisputed favorite of our collective.
With a selection of 8 signature flavors, including options such as Y ALLER AUX TOASTS (vanilla, homemade cinnamon streusel), BANANARACHIDE (banana fritter, peanuts, and chocolate chips), CRÈME ST-DENIS (chocolate, pastry cream, vanilla zigzags), and BOURRE-TOI LA FRAISE (strawberry milk and 100% natural confetti), in addition to seasonal variations, this counter promises a sweet experience that will delight every palate.
Erika, our marketing coordinator, has chosen the Crème Brûlée donut as her ultimate favorite.
Beyond the flavors, La Beignerie embraces the spirit of community solidarity with its "ÇaBeignePourTous" initiative. Each month, a portion of the proceeds is dedicated to causes that provide valuable support to Montreal and surrounding areas' four-legged companions. In October 2023, Proanima is benefiting from this sweet benevolence.
With flavors ranging from the irresistible "Y ALLER AUX TOASTS" to the decadent "BOURRE-TOI LA FRAISE," La Beignerie offers an unforgettable gourmet experience.
Consult other neighborhood discoveries in Montreal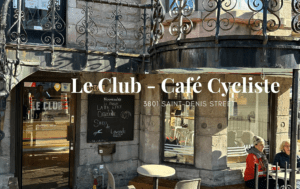 Neighborhood Discovery
Le Club – Café Cycliste – Key Information An essential stop in the Plateau Le Club – Café cycliste is a unique place that brings
Lire la suite »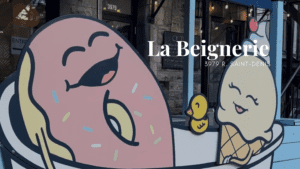 Neighborhood Discovery
La beignerie – Key Information A favorite in the Plateau Do you have a craving for sweets in a gourmet corner of Plateau-Mont-Royal? Look no
Lire la suite »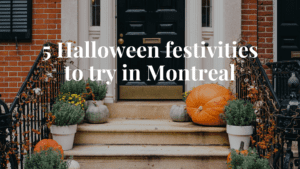 Montreal
5 Halloween Festivities to try in Montreal As Halloween draws near, Montreal takes on a mysterious and bewitching veil, revealing unique and captivating experiences in
Lire la suite »
A few properties for sale in Le Plateau