Le Club - Café Cycliste - Key Information
An essential stop in the Plateau
Le Club – Café cycliste is a unique place that brings together two passions: cycling and coffee. It serves as a meeting point for cyclists, biking enthusiasts, and locals who share a common love for bicycles. The establishment offers a welcoming space where cyclists can gather, discuss their latest biking adventures, and plan future outings.
The café exudes a warm and inviting atmosphere with décor centered around cycling. The walls are adorned with bicycles, accessories, and photographs associated with the world of biking. It's an ideal spot to stop by after a bike ride in the neighborhood or to relax with a great cup of coffee.
Regarding food and beverages, Le Club – Café cycliste offers a selection of quality coffees, fresh pastries, sandwiches, and snacks. It's the perfect place to recharge after a bike ride or simply savor a coffee break. Located close to our office, it's actually the favorite spot of Kemsley, assistant to real estate brokers. His go-to choices? A matcha latte paired with a pear grilled cheese.
The Le Club Boutique: clothing and accessories for cyclists
Recently opened next to the café, the Le Club Boutique offers a variety of high-quality clothing, helmets, and accessories for cyclists. It is renowned for its expertise in bike mechanics, providing top-notch repair and maintenance services. The shop also offers city bikes, road bikes, spare parts, and much more.
Organized cycling-related activities
This café also serves as a starting point or a stop for organized bike rides, cycling events, and workshops on bike mechanics. It provides support to cyclists, whether they are beginners or experienced, and fosters a real sense of community around the passion for cycling.
Read more neigborhood discoveries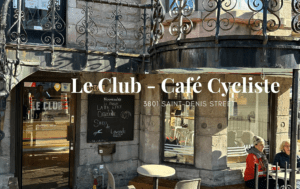 Neighborhood Discovery
Le Club – Café Cycliste – Key Information An essential stop in the Plateau Le Club – Café cycliste is a unique place that brings
Lire la suite »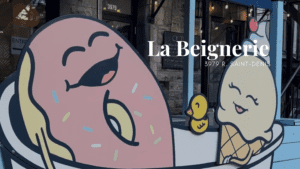 Neighborhood Discovery
La beignerie – Key Information A favorite in the Plateau Do you have a craving for sweets in a gourmet corner of Plateau-Mont-Royal? Look no
Lire la suite »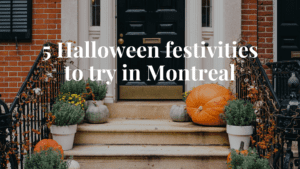 Montreal
5 Halloween Festivities to try in Montreal As Halloween draws near, Montreal takes on a mysterious and bewitching veil, revealing unique and captivating experiences in
Lire la suite »
Properties on sale in the Plateau